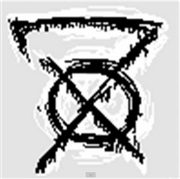 The number '7' has appeared in multiple entries and appears to be relevant to the series so far.
There are seven members of THEWICKEDSEVEN .
Journal 7 was the final video from Simon's camera, and was characterised by heavy distortion and TW7's symbol appearing.
Journal 14 (2x7) was also characterised by an appearance from Plague , Simon's disappearance, heavy distortion and an appearance from Slenderman himself.
The entry posted by Plague/THEWICKEDSEVEN (Journal 14+) should've been 15, but was in fact named 14+ to keep the 7+7 theme running.
Season One ended on journal 14+, 7+7. There are plans to end season two on journal 49, or 7*7.
The word "journal" the name for the videos in the series, has seven letters.
7 is a very important number in mythology, especially Christianity. It was the number of days that God took to create the earth; Cain was to be 'avenged sevenfold' if he were to be murdered; there were seven years of plenty and then famine in ancient Egypt; and especially the seven deadly sins.¹